How The Monkey Came To The Black Forest...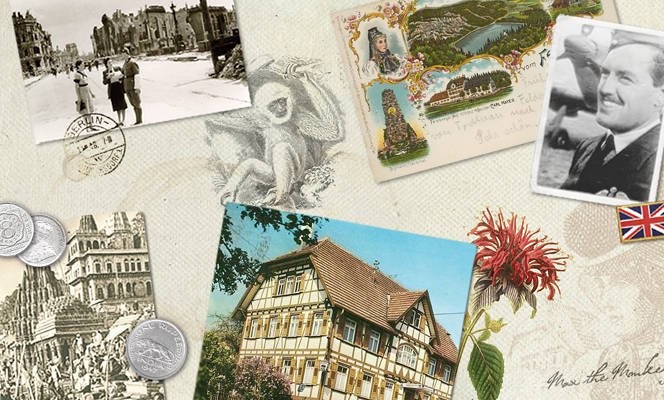 In July 1945, Wing Commander Montgomery "Monty" Collins of the Royal Air Force – watch lover, cricket enthusiast, and globetrotter – was posted to the British sector of divided Berlin. Collins, the son of a British diplomat, was born in 1909 in the British Indian province of Madras. He was quick to discover the power of language and learned no fewer than five languages, one of which was German. Having arrived in Berlin after the end of the war and taken up his post in the administration of the British sector, Commander Collins was profoundly affected by the extent of the destruction of the capital and so resolved to support the reconstruction of Germany in his free time too. Henceforth he became devoted to the rebuilding of Berlin Zoo, through which he came to sponsor an egret monkey by the name of Max.
Montgomery Collins left the Royal Air Force in 1951. Driven by his desire to learn the art of watchmaking, Collins moved to the Northern Black Forest region. Unfortunately, he showed little talent for watchmaking, and so instead opened a country guesthouse, which he named "Zum wilden Affen" ["The Wild Monkey"] in honor of Max, the monkey he had sponsored in Berlin.
As a British gentleman, Collins was not willing to give up certain long-standing traditions such as a good glass of gin. This gave birth to his interest in the production of this most English of drinks. Juniper, also a vital ingredient for producing the renowned Black Forest ham, was in abundant supply, as were pure well water and a variety of special herbs and plant ingredients. This provided Montgomery Collins with a natural and regional basis on which to develop his unique Black Forest gin recipe.
The story of Collins trails off in the early 1960s – until renovation work at a country guesthouse at the turn of the century led to the discovery of a weighty old wooden box containing a bottle and a letter. The dusty bottle had been labeled and decorated by hand. Below a sketch of a monkey read the words "Max the Monkey – Schwarzwald Dry Gin" in black lettering. The accompanying letter contained not only personal notes and photographs but also a detailed description of the plant ingredients Montgomery had used in his recipe.