Rose Hip - Rosa Canina
The crimson-red pod!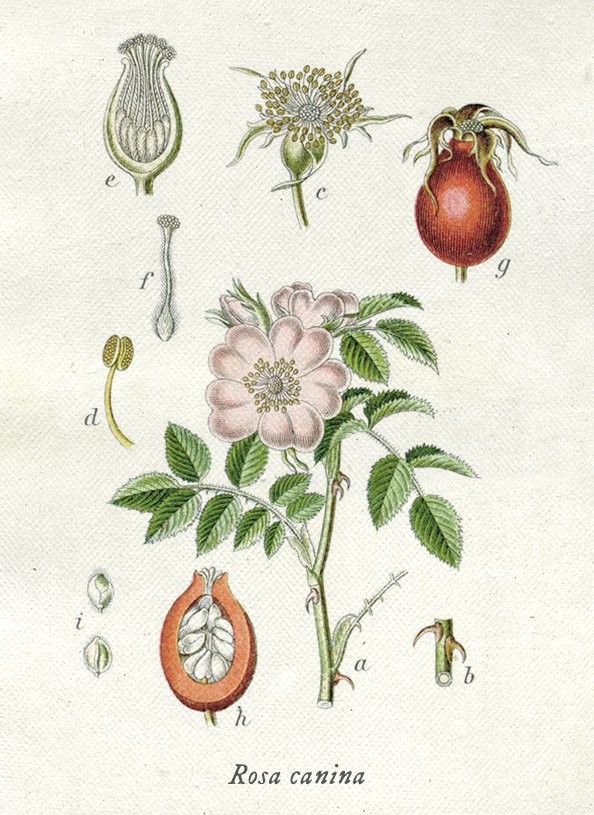 Sung about in countless children's songs, the rose hip is an aggregate fruit comprising different types of rose (from which wild roses primarily take their name) and contains many small nuts, the fluffy hairs of which have often provided the basis of practical jokes – in a similar way to itching powder. However, the rose hip is also rich in vitamins, containing over 10 times as much vitamin C as the same amount of lemons, has a somewhat sweet and sour flavour, and helps to promote a healthy diet in humans and animals alike.
Growing up to a height of around three metres, the thorny and bushy wild rose produces five-petalled flowers that are white to pink in June, with the red fruits appearing later in the summer. Its name is derived from the words "rose", in reference to the flower, and "hip", to indicate the fruit. This is a visually powerful name used to describe a plant that grows in the hedgerows in which the rosa canina ("canina" meaning ubiquitous) is to be found.
And also in the Black Forest, where Montgomery Collins, the forefather of Monkey 47, particularly appreciated the Swabian rose hip puree (a kind of jam) of the kind soul who helped him out for many years at his "Zum Wilden Affen [The Wild Monkey]" country guest house. It is said that he ate it on dark rye bread for breakfast every morning with a cup of tea.