Pleasant guests from South America at the Schaberhof
Schwarzwald Import / Export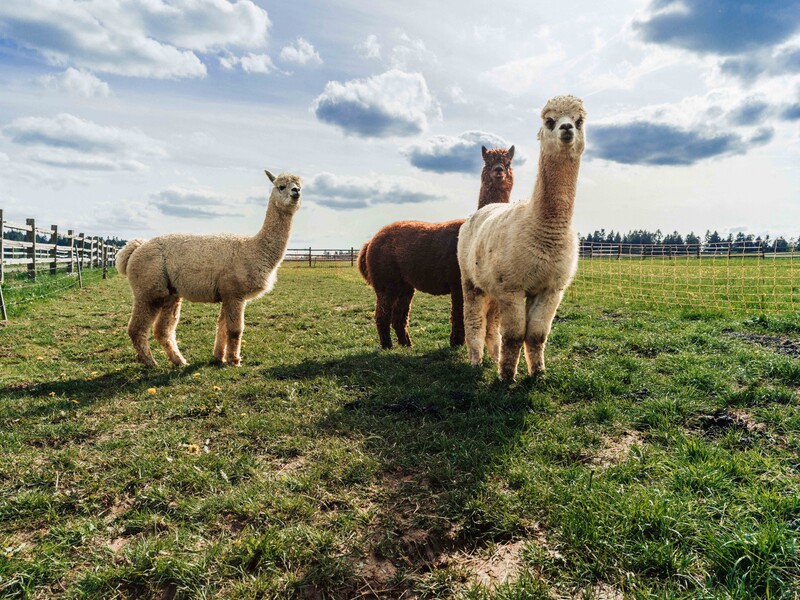 Species
Alpaca (Vicugna pacos). A cloven-hoofed member of the camel family. Known for its distinctly tranquil and amiable nature.
Characteristics
The main physical features of alpacas include lean, elongated legs; a long, thin neck; and a small triangular head. Thanks to its thick coat, which is particularly dense around the legs and on the head, the animal serves as a source of wool. Alpacas can weigh up to 80 kilogrammes, but are typically not taller than a metre at the withers, which makes them somewhat smaller than llamas. They very likely descend from the vicuña. The colour of alpaca wool ranges from pure white, beige, virtually any shade of brown or chestnut, and various greys all the way to deep black. Alpacas also sport many different variations of mottled, multicoloured coats. Their average lifespan is between 20 and 25 years.
Habits
Like all members of the camel family, alpacas are social creatures who prefer to live in groups. They are herbivores that subsist almost exclusively on grass, which they chew up with the help of a dental pad before it continues on to their three-part stomachs. Alpacas communicate using sounds that resemble a combination of neighing and singing.
Origins
Alpacas are primarily bred in Peru, Bolivia, and Chile.
Being a camel
Some alpacas – not ours, of course – tend to spit when they get angry. It's actually not spit at all, but gastric juices, often with a bit of what they've just eaten mixed in!
The alpacas of 24 Höfe
Our three males go by the names Milka (born 2015), Pascha (2012), and Ronaldo (2013).