Erhard von Umtrieb
A lonely house called the Wild Monkey Inn - and its Wunschmaschine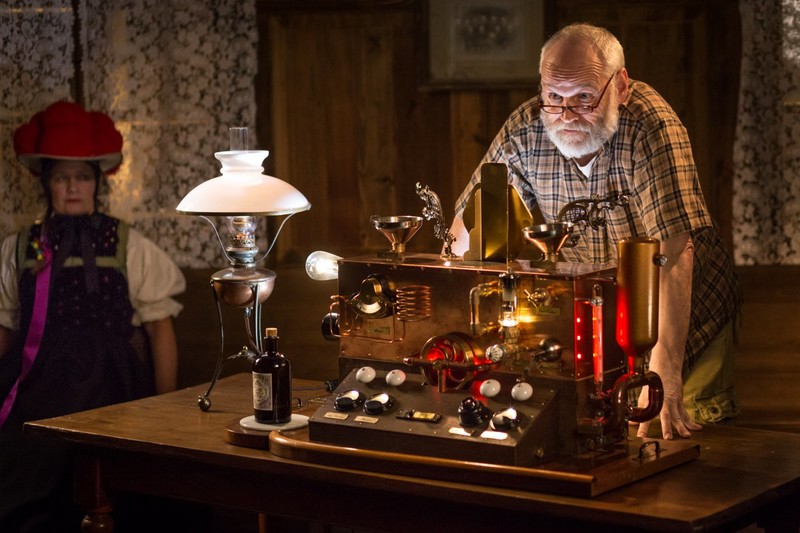 Who wouldn't like a machine that grants wishes? Herr Taschenbier certainly did for the Sams in Paul Maar's series of children's books, and we can hardly blame him.
Recently, we were lucky enough to fulfil this persistent desire and can now call ourselves the proud owners of a custom-designed Wunschmaschine. Indulging us in this flight of fancy was Erhard von Umtrieb, a member of the Germany Steampunk Society's Rauchersalon ("smoker's salon"), who made our idea manifest with the utmost attention to detail. Essentially, we wanted to be able to "wish" for proper drinks that take just a few steps - and a good splash of Monkey 47, of course. The best way to get the idea might be to watch the moving pictures we took of the process in The Wild Monkey Inn, Episode I: "The Wunschmaschine". Judging by the outstanding quality of the cocktails our new contraption produces, we owe Erhard von Umtrieb our deepest gratitude for making this pet project a success.
If you don't have a wish-machine at your disposal at the moment, here's something to keep your spirits up - a pearl of wisdom straight from the Sams itself:
If you've wanted something that long
You don't need a wish-machine;
Even a pig can learn the violin
If its will is double-strong!
On that note: Cheers!