Delicate Delirium
A story about classic designs, the context of pleasure, and speaking without words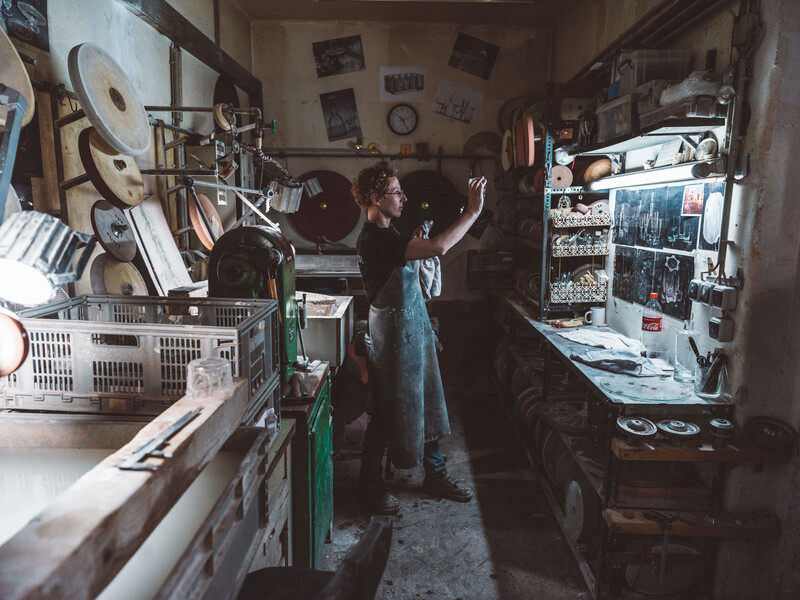 " Dear Julia, we're working with Lobmeyr on unveiling a new tumbler. Why don't you get yourself to Vienna to have a look?"
This was the basic gist of the job they gave me. I have to admit, my expertise in glasses up to that point was limited to "Mum's good champagne flutes – the ones with the gold around the rim – don't go in the dishwasher" and a mnemonic for sommeliers: "Tall for Bordeaux, round for Burgundy." In the household I grew up in, we drank our fizzy apple juice out of empty, repurposed mustard jars and only brought out the "good china" on major holidays. My previous associations with Vienna, and with the Lobmeyr name in particular, included opulent chandeliers, heavy crystal decanters, and white-gloved servants to polish them from morning till night. It was thus with a fair bit of reverence that I set out on my journey.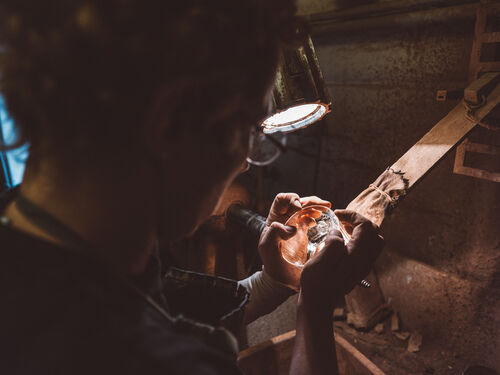 My initial remote research only served to heighten the feeling. Currently in its sixth generation of family management, Lobmeyr has been synonymous with exquisite glassware for nearly 200 years. The company was founded in 1823 by Josef Lobmeyr, Sr., at which point it almost immediately earned the coveted designation k.k. – indicating its status as an "imperial and royal" supplier to the House of Habsburg. Its founder's sons, Josef and Ludwig, continued to expand Lobmeyr's influence by setting new standards of quality and design in glass manufacturing and presenting the company at the first World's Fair. Ludwig Lobmeyr, who was responsible for the artistic design of its products, was also one of the people who founded what is now the Museum of Applied Arts in the Austrian capital in 1864. In 1882, he then worked with Thomas Alva Edison on installing the world's first electric chandeliers in the elaborate ballrooms of the Hofburg Vienna. Even then, Lobmeyr worked with the most creative minds and earned an enduring reputation for combining artisanal craftsmanship and precision with visionary ideas.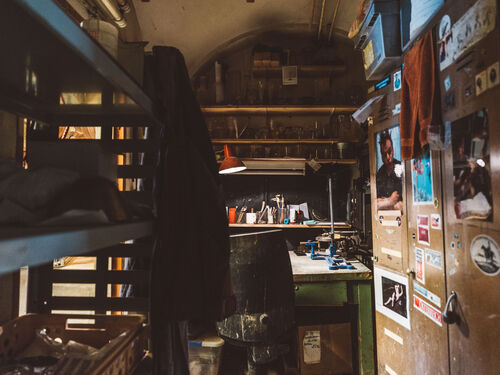 Having had no children, Ludwig passed the company on to his nephew Stefan Rath. In the course of this generational transition in 1902, Lobmeyr also stepped into the modern age, marking another milestone in its already illustrious history. Vienna itself was evolving into a vibrant metropolis with one of the most influential art and culture scenes in the world. This zeitgeist is reflected in Lobmeyr's profile as a company at the time. In 1912, Stefan Rath (Sr.) was one of the co-founders of Österreichischer Werksbund, an association of artists, architects, entrepreneurs, and artisans. This movement's stated goals were to promote quality craftsmanship and enable those involved in architecture, skilled trades, and the visual arts to work together. Sensing the signs of the times, Rath made the conscious decision to realign his operation from the ground up. Collaborations with Josef Hoffmann and artists from the Wiener Werkstätte community produced works that were provocative to people's tastes at the time, but are now featured as classic designs in museums and textbooks. In 1925, the Paris Exposition des Arts Décoratifs et Industriels Modernes then gave rise to the Art Deco style. Lobmeyr was awarded the Grand Prix by the event's jury.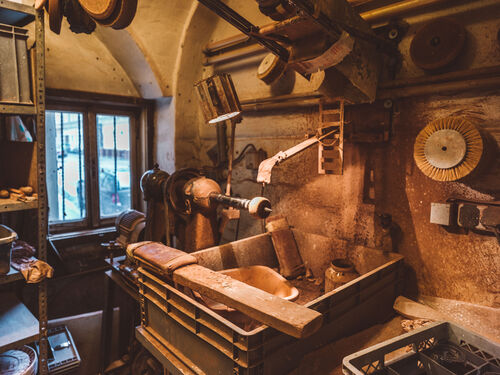 After the company survived World War II, Hans Harald Rath set about continuing its story of success. The legendary "Alpha" glass once again captured the zeitgeist in 1952. Simple, functional, and elegant, it remains part of Lobmeyr's product line today. Another icon of style has been hanging in New York's Metropolitan Opera House (better known as "the Met") since 1966: the venue's starburst chandelier, which itself has garnered the nickname "Sputnik". The 31 chandeliers and 332 sconces Lobmeyr has created are also well-known among those who have no glass expertise or design degree to speak of, which helps cast the family-run company's sphere of influence in the proper light.
So far, so impressive. Now it's time for me to meet Leonid Rath at Lobmeyr's chandelier workshop in Vienna. Along with Andreas and Johannes Rath, he represents the sixth generation to guide the storied company's fortunes. The father of four greets me with a smile at the courtyard entrance and asks if I'd like a Häferl. This Austrian vernacular leaves me baffled for a moment, as my face apparently reveals. Luckily, Rath is quick with the translation: "A coffee?" So much for passing my first lesson in the Viennese dialect. From burnishing and engraving glasses to assembling, repairing, and restoring chandeliers, Lobmeyr has been conducting its business here in the city's diplomatic quarter since the 1970s.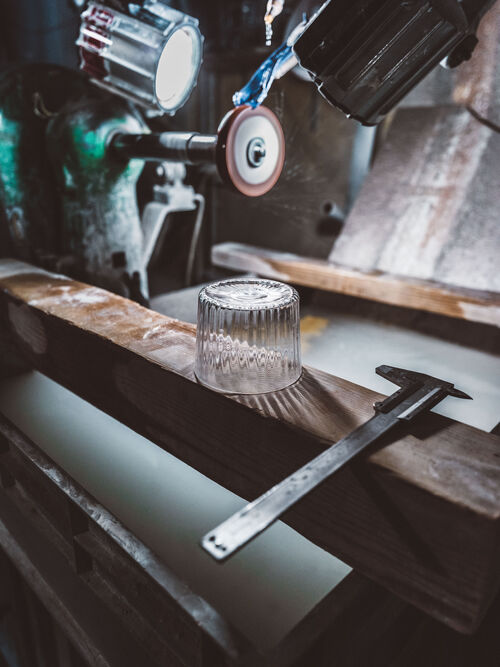 Rath guides me into the first room, where we find three workstations featuring unwieldy-looking machines and waist-high stools. "They're all on their lunch break," Rath explains, leaning on the door frame as he motions towards one of the contraptions. "This is where the spherical grinding is done." I whip out my pen, demonstrating just how ready I am to take notes, and nod industriously in response. "Here, the lens is ground in with corundum." More jotting, nodding, and flipping through my notebook. "We then polish the lens with ground pumice to make it clear again." "The lens … right." Rath pauses for a moment, looks around as if to find something in particular, and reaches past me for a short glass with an undulating look. "Here we are: This is a tumbler that doesn't have a lens yet. We put it in because it enhances the glass. It looks nicer, and it also means that it can only get scratched along the edge." This is the exact moment when it happens.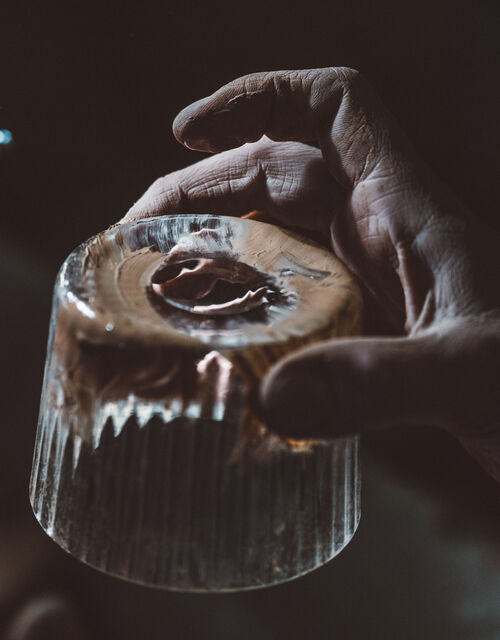 All the things I took the trouble to read before coming here – about the origin story of Lobmeyr's classic designs, glass production, the steps involved, and the theoretical aspects I found interesting, but rather dense, as well – it all gains real substance thanks to a simple haptic experience. The glass I'm holding is gorgeous and astonishingly light. I can tell straight away that it's something very different from the run-of-the-mill items you'd find in my cupboard. You can sense how valuable it is – how precious. I blurt out the first word that comes to mind: "Delicate! It doesn't weigh a thing."
I turn the fragile tumbler over in my hands. The light refracts through its linear relief. This effect is referred to as "wordless language" by Mark Braun, who favours designs that need no explanation. It was Braun who drew up the idea for the tumbler and worked with Lobmeyr on making it a reality. Leonid Rath has a similar mindset. "The idea isn't to create collector's items for some display case; we want to make perfect objects that people actually use," he explains.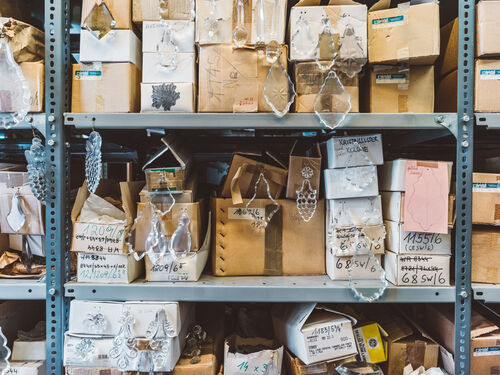 I trace the tumbler's ridges with an index finger. "Can you feel where it's just a bit uneven? That's how you can tell it was made by hand. Not one glass is like the next – even when we try our best!" Rath says with a laugh. "Each glass is blown into a wet wooden mould, which is a technique that dates back to the Romans. The glass is shaped by the hot steam released from the pores of the wet wood. It makes the surface perfectly smooth and gives it that lustre." This special method is typical of Lobmeyr, but rarely used these days; no more than 300 glasses can be produced before a new mould is required. Rath continues leading me through the workshop, showing me the polishing stations and the room where engraving is still done by hand. Rows of folders containing orders line the walls.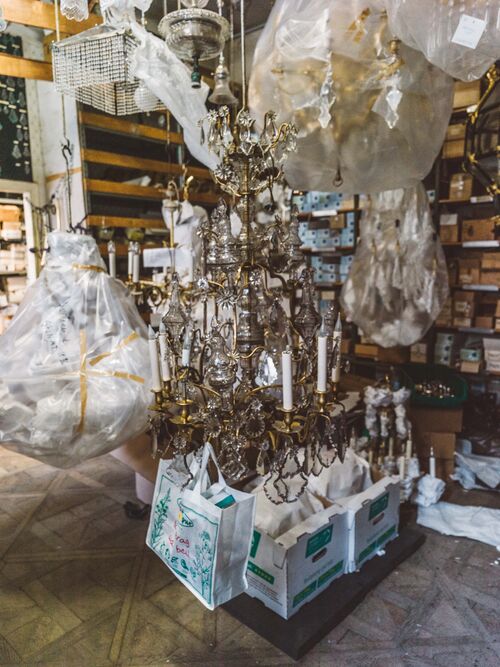 Each customer's specific requests are neatly filed and added to the archive – which includes the Monkey 47 logo. The final step in making the tumbler involves sandblasting the pint-sized simian onto the bottom along with the Lobmeyr signature. "We use artisanal methods when it makes sense. Copper engraving is appropriate for three-dimensional designs, but sandblasting is better for very fine lines," Rath reveals. He seems to be taking his time to patiently explain every step the workshop performs. By the end of the day, I've learned that a Lobmeyr glass passes through at least 24 hands and four quality checks.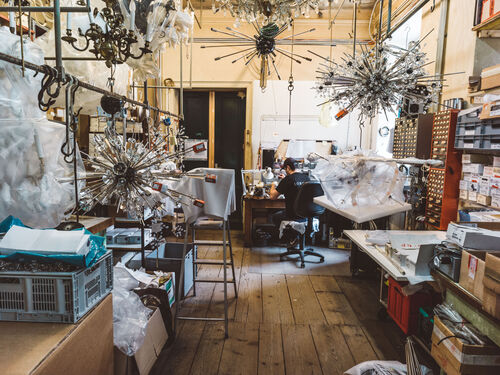 We eventually end up having that Häferl after all. "Curiosity and creativity are very important to us. It's about turning an experiment into an economically viable product," Rath continues. "There's a story behind every design. We want to discover the brightest minds of our era." Mark Braun is one of them. Having worked for Lobmeyr for nearly 10 years, the German designer enjoys the artistic freedom the company allows him. He calls the tumbler a "delirious object": "On the one hand, it's the result of a very traditional manufacturing process, but it's also a reference to pleasure. A slight inebriation, the sweetness of bliss, delirium – all with a sly wink of the eye, of course," Braun explains. Indeed, peering through the glass's linear relief offers a slightly blurry view while also recalling the horizontal grooves of a barrel – a self-fulfilling prophecy, you might say. However, both Mark Braun and Leonid Rath tend to focus more on the delicacy, superior quality, and precision craftsmanship of the glass. These are the characteristics that set this creation apart in a sea of mundane objects and make it something truly precious. No explanation compares to holding it in your hands – just be careful if you're already a bit delirious!