Preserving
The Lion in the Jar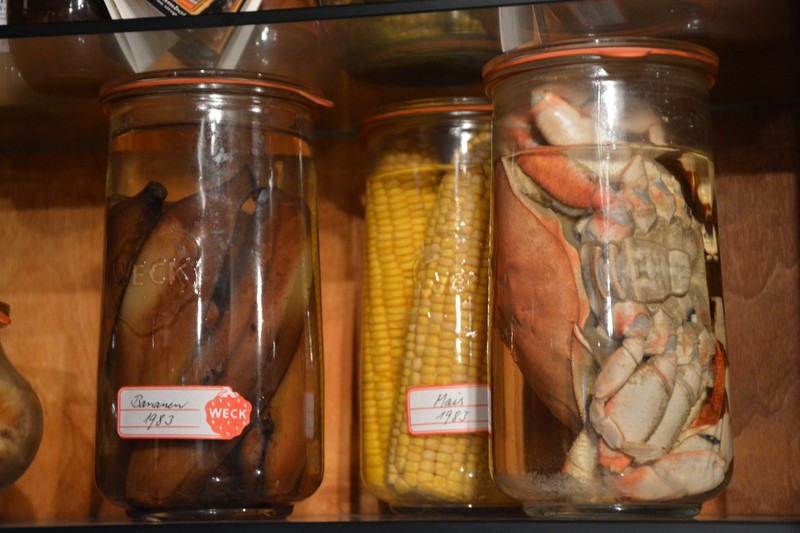 Montgomery Collins, the forefather of Monkey 47, was born in India in 1909. Four years previously, in the fall of 1905, an unknown couple got married in Germany. The pear tree in the garden must have looked quite spectacular. Its fruits were big and ripe. They plucked two as a sign of their eternal love for one another. When Collins came to Germany as a British officer in 1947, the pears were already 40 years old. Whether the couple were still united after both world wars? At least the pears were – and still are to this very day. They are just one of thousands of exhibits in the archives of a company called Weck in the southern Black Forest town of Öflingen.
Preserving is a process that most people know from their grandmothers, who stored their summer treasures on shelves in the cellar, surrendering one occasionally in the wintertime. But times began to change. Women no longer wanted to spend so much time in the kitchen. They could buy all the food they wanted at the supermarket. Preserving almost went out of fashion, but for a number of years now, business has again been booming.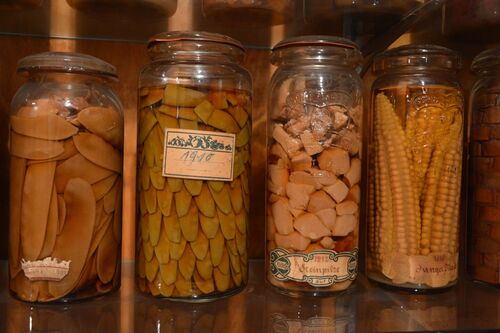 There are several ways of preserving food. However, nothing has yet been found that works as safely and durably as "canning." You put the food into a jar, seal it using a rubber ring and a glass cover secured with metal clips, and put it into boiling water. The cover is pressed on and works like a pressure relief valve as the air is removed, thus creating a vacuum, which securely clamps the cover to the jar. The heat of the cooking and the vacuum ensure the long shelf life.
So one reason for the revival in canning is its unbeatable method. A second reason is people's desire for dependable quality and true values. Cherries from your own garden simply taste better than those you get in a jar at the supermarket. This is what the resounding success of Monkey 47 is based on. Here, too, an attention to detail, dedication to the product, and a love of Black Forest botanicals are the key.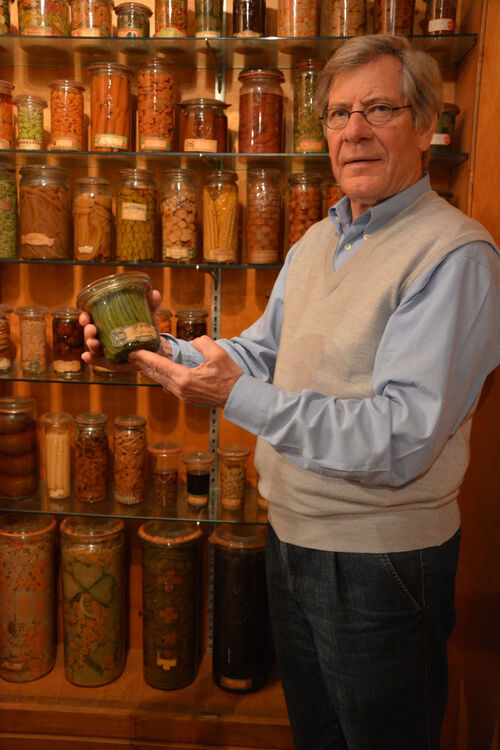 The authorized representative Rüdiger Mengel maintains the archive at Weck, which was founded in 1900. Several rooms accommodate testimonies to the company's eventful past. Alongside canning jars full of history, you will find weird and wonderful experiments. For example, a jar containing a piece of preserved lion meat, which remains sealed to this day. In 1913, eight lions absconded from a circus truck in Leipzig and began to roam the city's streets. Two were caught alive and six were shot by custodians of the law. Part of their flesh was preserved as a reminder. The meat doesn't look particularly appetizing, but it could still be eaten, even after 100 years – if somebody really wanted to. You can be sure that preserved goods are still all right if the jar remains tightly sealed. If any of the bacteria have survived and the food has gone bad, the cover will be released automatically. Monkey 47 also has a long shelf life. The dark pharmacist bottle protects the valuable contents from the light and the cork ensures that it is tightly sealed. But seriously, who wants to preserve a Monkey when you can drink it there and then? To accompany it, perhaps you could also open a jar of elephant's trunk in jelly or nibble on some canned rhinoceros beetle larvae. The canning recipes from colonial times in Africa are also to be found in the Weck archives.