Tales from the Black Forest
Gin and Other Medicines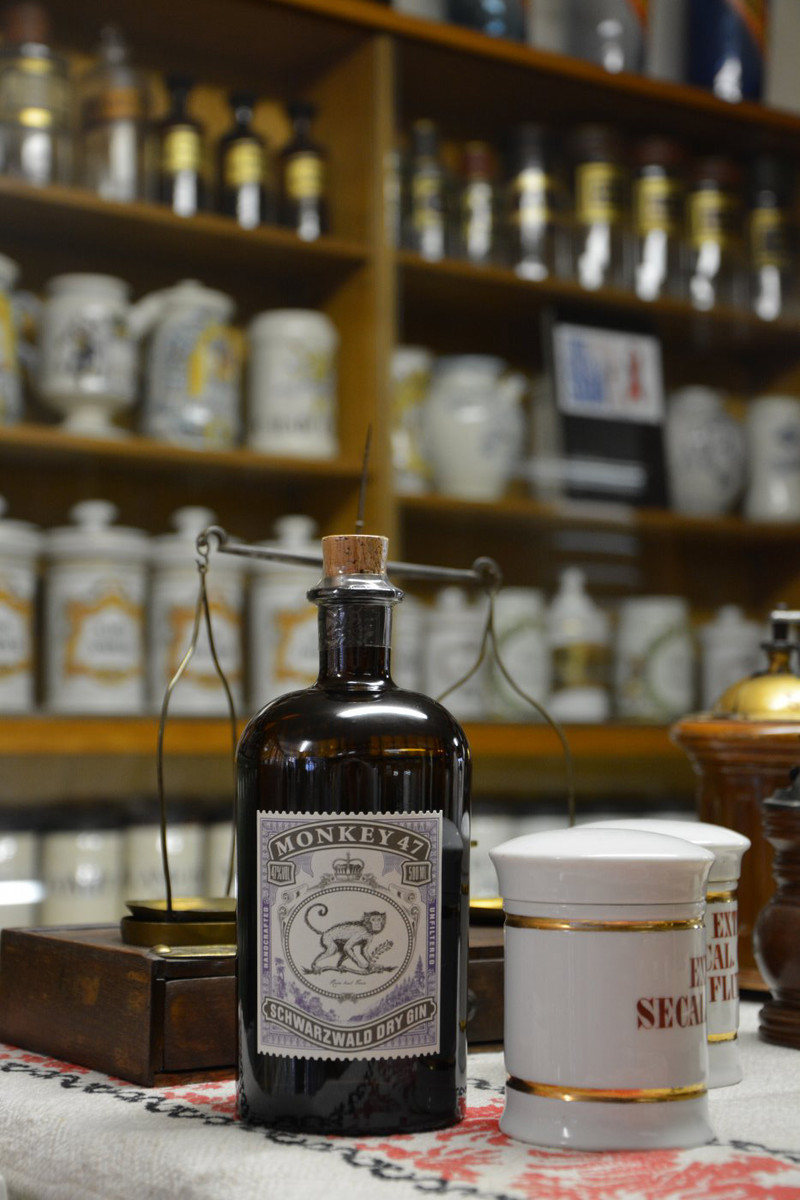 With everything that you find in the Ratsapotheke pharmacy in the small Black Forest town of Schiltach, you could start producing your own Monkey 47. For the pharmacy museum has, amongst other things, distillation apparatus and a vast array of botanicals on display – certainly more than the 47 to which the Monkey owes its exceptionally mellow flavor. However, exhibits here also include substances that you most certainly wouldn't want in gin. You can easily identify them by the skull printed on their labels. The museum's poison cabinet, for example, contains opium and genuine curare, the famous vine extract used by South American Indians to poison their arrow tips.
Inge Rath has spent most of her life in Schiltach. Born in Graz, Austria, she met a young man while she was training in her hometown who wanted to take up an internship at the pharmacy. "Oh no, a Prussian," were her first thoughts when she heard him speak. The next day, Graz came under attack from enemy bombs. When the bombs began to destroy the pharmacy, she threw her arms around him for protection as they hid in the cellar. They escaped through a window, which marked the start of both a wonderful love story and the Ratsapotheke pharmacy in Schiltach.
The building, which is located on the historical market square, opposite the town hall, was first documented in 1511. It first served as a pharmacy in 1835. The Raths took it over in 1954, including the laboratory and also the Biedermeier-style sales area. Ancient burl wood elements and glass are prominent features of the decor. In the 1970s, the card index cabinet in the back room was modernized. The craftsmen also offered to give the sales area a full restoration, but that was too expensive for the Raths, their three sons, and one daughter. Fortunately, Ingeborg Rath says now, otherwise the antiquated pharmacy would have lost all of its original charm. In 1989, the Raths closed the business. Inge's husband had the idea of using the premises and furnishings as a museum. Right up until he passed away, they attended flea markets and auctions together. "Other people go on cruises; we spent our money on pharmaceutical artifacts," says Ingeborg Rath without regret.
A unique treasure trove acquired from four centuries of pharmacy history has come together and is now proudly presented in Schiltach. Antique pill boxes, art nouveau apothecary bottles, and pharmaceutical travel kits from the 19th century. Small corked bottles with potent herbal extracts bear witness to the early days of homeopathy. Metallic nose shapers demonstrate how those who wish to be beautiful have always had to suffer. Each exhibit has its own story to tell. "If television or film companies need requisites, they come to us," says Ingeborg Rath, pointing to an old apothecary case that the German television company ZDF borrowed from her. Original thalidomide packaging also helped one broadcaster to ensure that a film of the same name had authentic props.
Artifacts that are steeped in history reach as far down as the basement, which was previously used as the storeroom. Here, you can marvel at the tiny metal canister that Berta Benz asked pharmacies to fill up when she undertook her first journey in an automobile. Back in those days, those were the only places where you could get gasoline.
Several thousand tourists a year allow themselves to be taken back in time to the pharmaceutical world of yesteryear. They come from far and wide, as confirmed by the visitors' book: British, Indian, Chinese, American... No visit to the medieval town of Schiltach is complete without browsing round the Ratsapotheke pharmacy.
Monkey 47 fits into these surroundings particularly well. Many of the bottles on display do indeed look deceptively similar to the Monkey bottle. Even though most of them still contain their original liquids, you'll only find gin in the one with the monkey label.