The Perfumer Behind Bars
The Curtain Club And Fragrances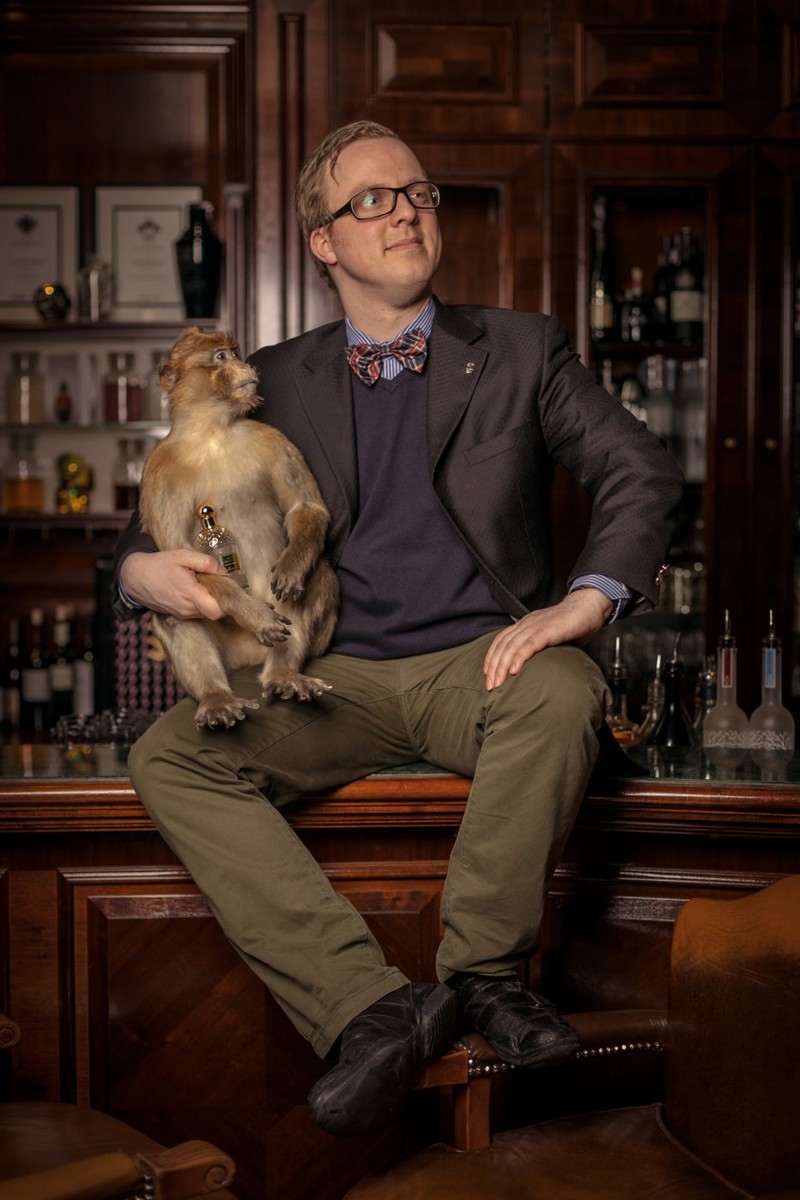 One man, one hotel, two concepts. Arnd Henning Heißen is the creative magician who has transformed 'The Curtain Club' and 'Fragrances' at The Ritz-Carlton, Berlin into places of extravagant indulgence with worldwide acclaim.
Arnd Heißen is a regular guest at the award presentations organized by the trade magazine Mixology. In 2013, he was crowned Host of the Year, and in 2014, Mixologist of the Year. For 2015, his bar The Curtain Club took the prize in the Best Hotel Bar category. And justifiably so, too. "The Curtain Club is the living room of globetrotters who give us inspiration and souvenirs and take our guests on those very same journeys with their aromas," explains Arnd Heißen.
Dark wood paneling, fine leather upholstery, and deep, soft carpet – the second you walk through the bar's thick curtains, you have this wonderful sense of being at the home of good friends. Live jazz in the background, animated conversations, and delicious snacks to accompany your drink of choice round off the relaxing classic ambience. The menu also contains a range of exquisitely presented classic cocktails. But the bar manager's true passion is creating new drinks that themselves have what it takes to become genuine classics.
'Fragrances,' his second bar at The Ritz-Carlton, Berlin, adopts a completely different approach. The walk-in drinks menu presents itself as a kind of opulent futuristic dream in black. You stroll from one creation to the next, captivated by the visual stimuli and fragrances, before creating a drink to sate all your sensory desires. These exceptional delicacies are inspired by famous perfumes. Each drink has its own story to tell and is presented in an equally kooky and creative fashion. For example, aficionados of Penhaligon's Vaara perfume have a cocktail that aims to convey "a sense of home" and is served in a miniature wooden house through which sandalwood smoke has previously permeated. Arnd Heißen has been developing The Ritz-Carlton, Berlin into an international mecca of bartending expertise since 2010. He began his training at the Main Plaza in Frankfurt in 2001, before moving to the 'Vier Jahreszeiten' in Munich, only to return to Frankfurt at the Arabella Sheraton afterwards. The Shochu Bar drew him to Berlin before he became master of the curtain at The Ritz-Carlton,Berlin.
"I love the complexity, authenticity, aesthetics, and perfectionism of Monkey 47," he explains. Naturally, the monkey also plays a key role in his bars. For example, as 'The Man Under the Fern Tree,' for which 40 milliliters of Monkey 47 are fused with 20 milliliters of lemon juice and the same amount of spa syrup, comprising pepper, bergamot, vetiver, grapefruit, cedar, rosemary, and Japanese mint. This is all shaken and strained over ice and then infused with Fever-Tree Mediterranean Tonic. Finally the drink is served in a tiki glass and decorated with sprigs of mint and rosemary. This is how 'The Man Under the Fern Tree' is presented at the table – a delight to behold and full of flavor. How about another example? Arnd Heißen's 'Black Forest Champagne' is an ideal drink to fill you with inspiration as you enjoy an evening of self-indulgence by an open fire. For this, 10 milliliters of Monkey 47 sloe gin are blended with a bar spoon of cedar syrup and a dash of 'Abel Parfum vintage 13' perfume and then topped up with Ruinart Blanc de Blancs champagne.