Golden Lion Tamarin
Leontopithecus rosalia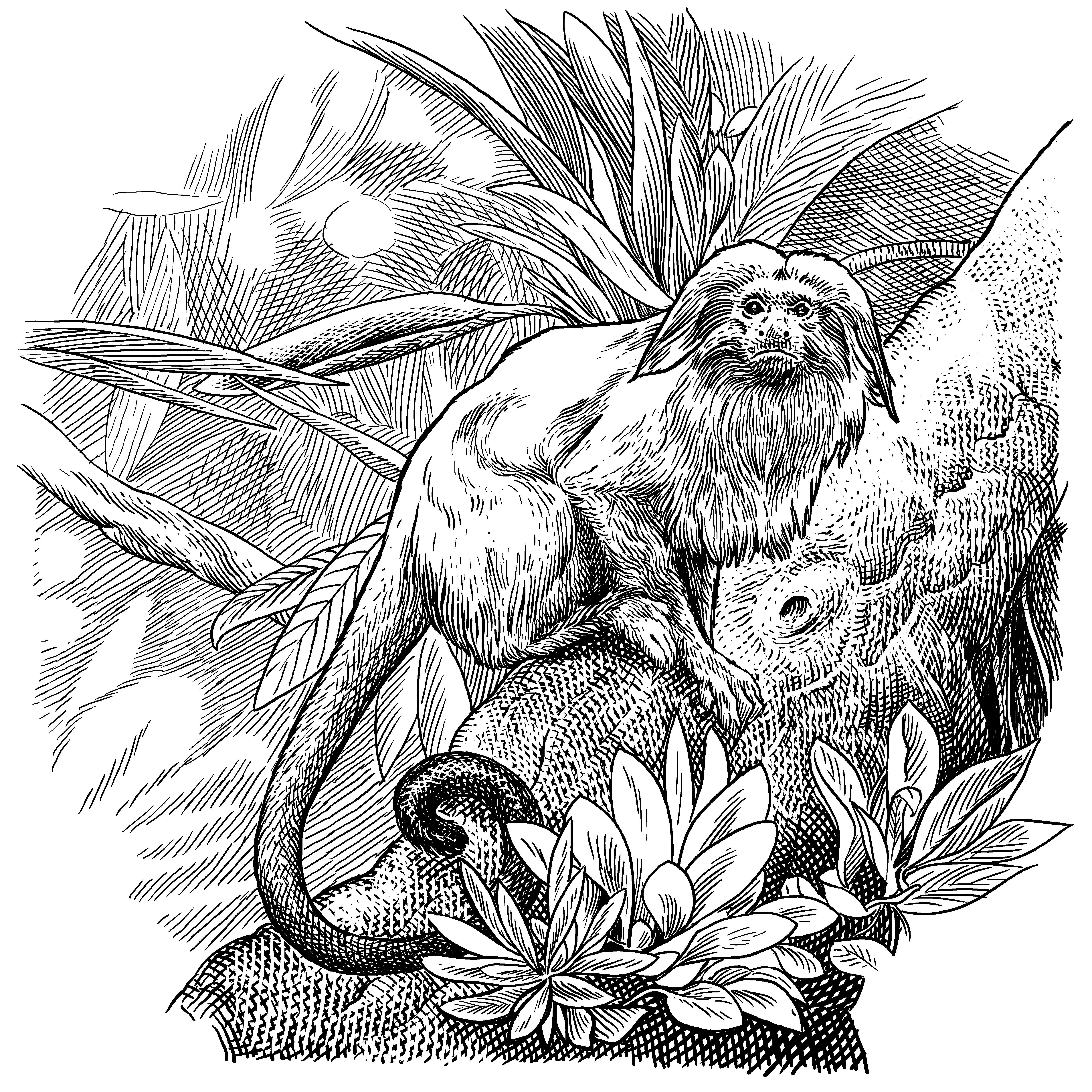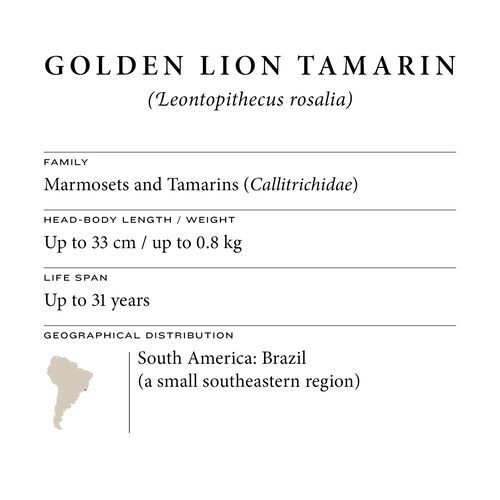 HABITAT
Golden Lion Tamarins live in lowland forests along the Atlantic coast.
BEHAVIOUR
Golden Lion Tamarins are diurnal creatures that live in family groups of two to 15 individuals. Within the group, only the dominant pair of Tamarins reproduces. Members of each group share a strong social bond. These pint-sized primates typically spend their nights in tree hollows or similar hiding places.
NUTRITION
Golden Lion Tamarins subsist primarily on fruits. They also feed on nectar, gum, and flowers, as well as small animals like insects, spiders, snails, lizards, and frogs.
REPRODUCTION
There is usually only one female that reproduces within a group. She will mate with several males between August and March. The female gives birth to twins after a rather short gestation period (125 – 132 days), which makes it possible for her to reproduce twice in one year on occasion. For the first few weeks, young Tamarins are constantly carried on their mothers' backs. The entire group takes part in raising them.
STATUS
IUCN RED LIST
Endangered
POPULATION
Approximately 2,400
TREND
At the beginning of the 1990s, there were only around 550 individuals left in the wild. However, a breeding programm to reverse the decline in Golden Lion Tamarins had already been initiated back in the late 1960s. Many of the resulting offspring were introduced back into the wild, where they have helped the population recover. That said, the species is still very much endangered.
THREATS
Historically, Golden Lion Tamarins have been threatened by severe forest loss and fragmentation, as well as live capture for the pet trade. The population and available habitat of these monkeys are now so limited that they will hardly manage to further recover their population and expand their habitat.
CONSERVATION
WHAT WWF IS DOING TO PROTECT THE SPECIES
– Advise and positively influence environmental policy in order to mitigate further habitat destruction
Stay tuned. We are going to reveal more in the next couple of days! Sign up for our Monkey News here!