Proboscis Monkey
Nasalis larvatus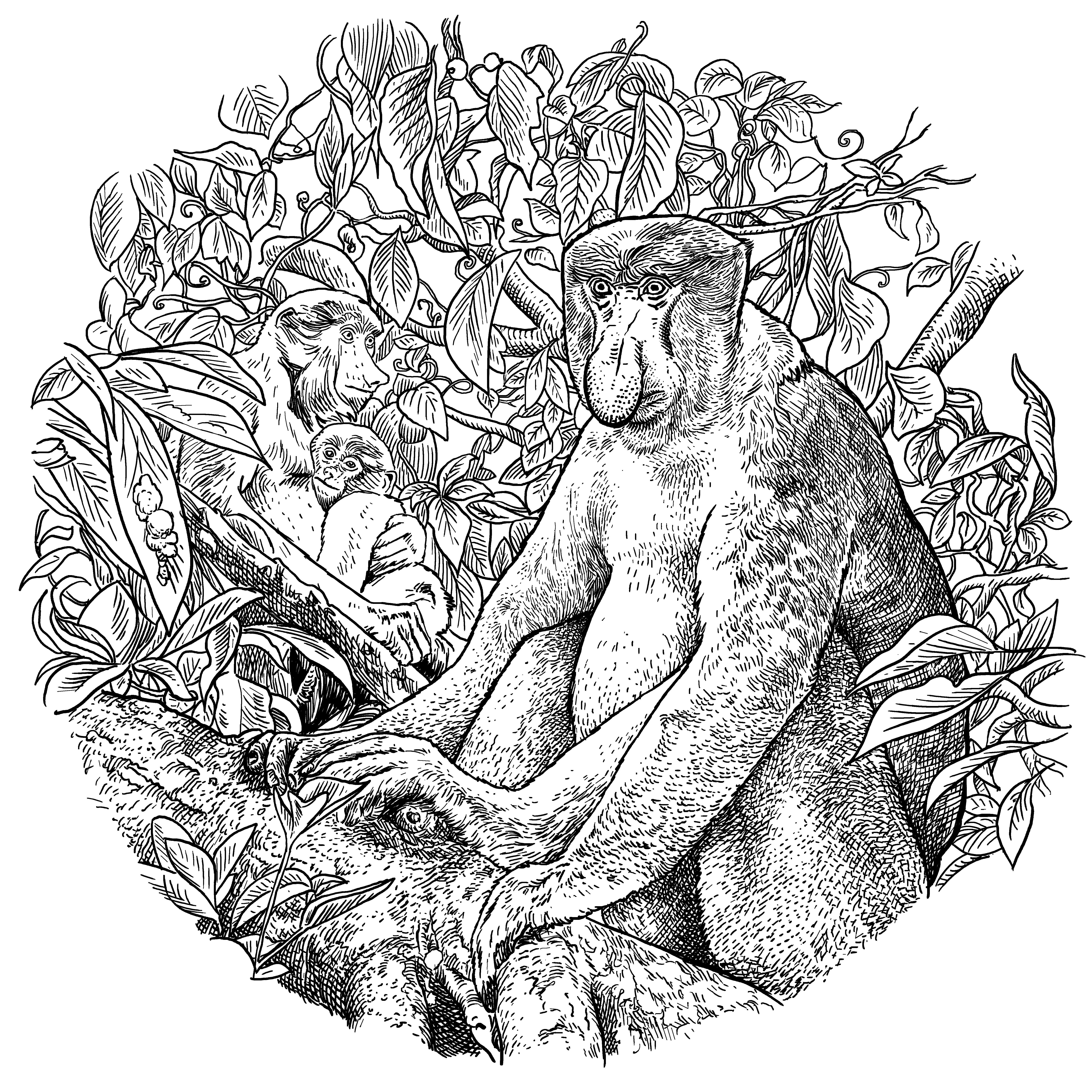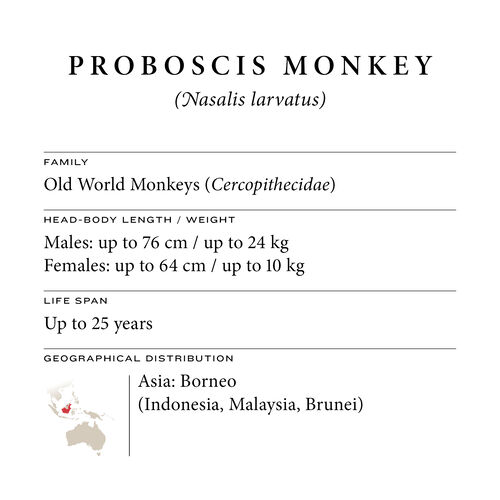 HABITAT
Proboscis Monkeys live along coasts and riverbanks in gallery forests, mangrove forests, and lowland rain forests. Their human neighbours call these long-nosed monkeys kera bellanda – "Dutch monkeys" – because their red noses remind them of sunburned Europeans.
BEHAVIOUR
Proboscis Monkeys are diurnal forest dwellers that are most active during the afternoon and evening. They spend their nights in trees immediately adjacent to significant waterways. Thanks to their partially webbed feet, they are considered as best swimmers of all primates; when disturbed, they can even dive for considerable distances. Groups comprise a single male and up to nine females, along with their offspring. While females tend to stay with the group in which they were born, young males leave their natal groups to join all-male groups upon reaching sexual maturity. The males' prominent noses serve as a mark of sexual attractiveness. The larger a male's nose, the more females he will have in his harem.
NUTRITION
Proboscis Monkeys subsist mainly on leaves, fruits, and seeds, along with flowers in some instances.
REPRODUCTION
Proboscis Monkeys give birth to a single offspring after a gestation of circa 170 days. Unlike their older counterparts, newborn Proboscis Monkeys have blue faces.
STATUS
IUCN RED LIST
Endangered
POPULATION
Estimated at fewer than 25,000
TREND
According to information available, Proboscis Monkey population has likely plunged by more than half in the past 40 years.
THREATS
Poaching and habitat destruction are threatening the survival of Proboscis Monkeys. Locations along coasts and rivers are also favoured by humans for settlement, logging, and agriculture. Proboscis Monkeys are relatively lethargic and easy to hunt, as well, which is how entire populations can be wiped out with little effort.
CONSERVATION
WHAT WWF IS DOING TO PROTECT THE SPECIES
– Investigations into poaching and illegal wildlife trade
– Designation of a forest corridor for Proboscis Monkeys to migrate
– Development of a management plan for the corridor
– Education campaigns and awareness raising to protect the species
Stay tuned. We are going to reveal more in the next couple of days! Sign up for our Monkey News here!