Roloway Monkey
Cercopithecus roloway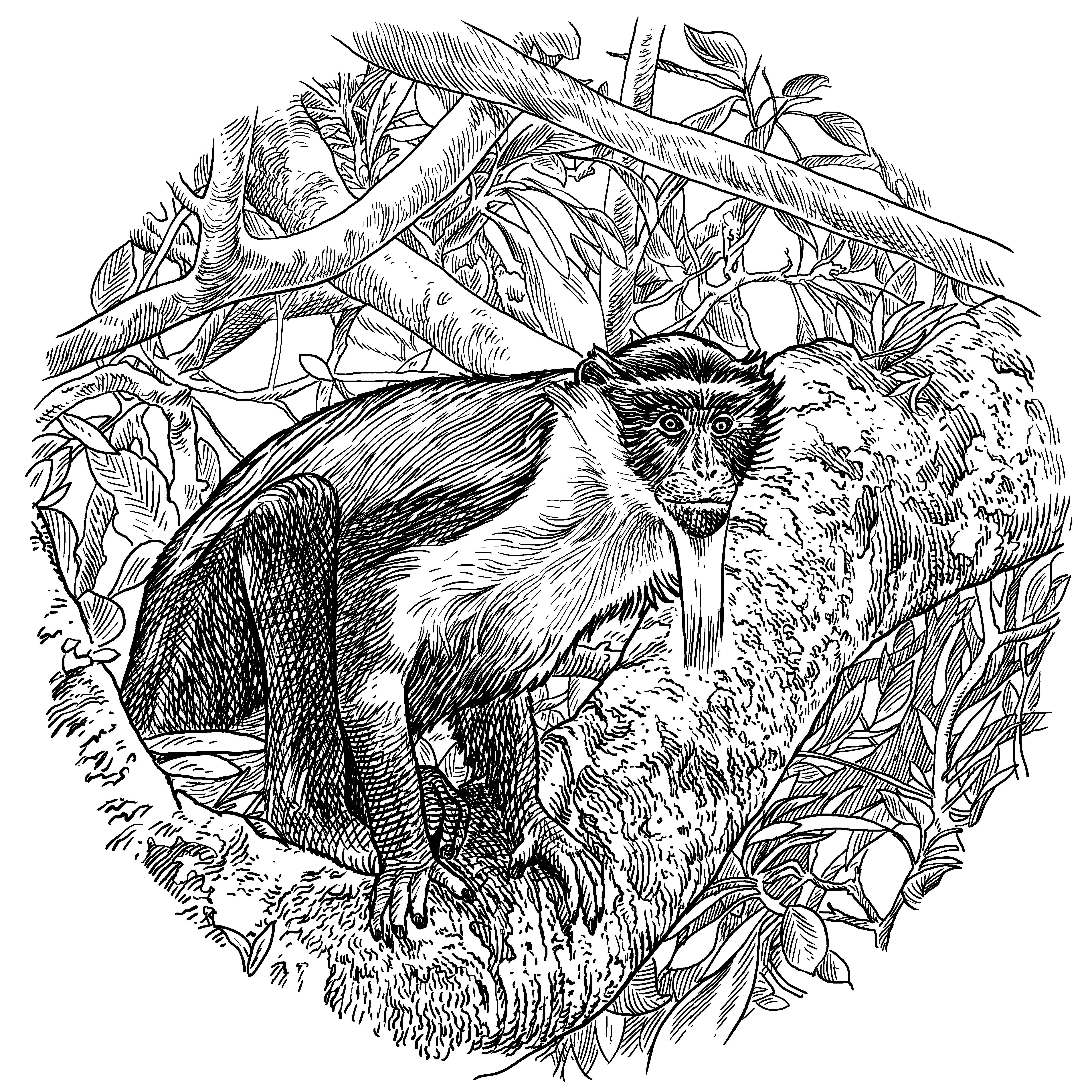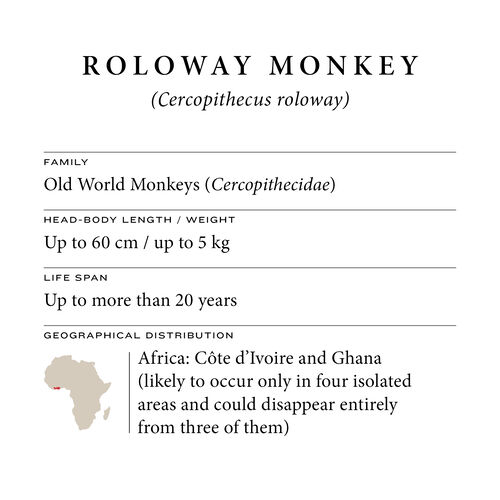 HABITAT
Roloway Monkeys live in the canopy of rain forests and gallery forests along rivers.
BEHAVIOUR
Roloway Monkeys are diurnal primates that live almost exclusively in the canopy of trees. They form groups of around 15 members, which consist of a dominant male, several females, and their young. A single group can comprise up to 30 monkeys, however. Roloway Monkeys use home ranges of up to 190 hectares. They mark their territory by emitting loud calls, but actual territorial fights rarely take place. They also use alarm calls to warn one another of predators like leopards and eagles.
NUTRITION
Like all species of Guenons, Roloway Monkeys mainly eat fruits and flowers. Their diet also includes insects, which they sometimes catch by launching into acrobatic jumps.
REPRODUCTION
The dominant male typically mates with several of the group's females. After giving birth to a single infant (or two, in rare instances), a female carries it underneath her belly and nurses it for five to six months.
STATUS
IUCN RED LIST
Critically endangered
POPULATION
Fewer than 2,000
TREND
Roloway Monkeys have largely disappeared from their original range. It is likely that fewer than 2,000 individuals remain in Côte d'Ivoire and Ghana. In the latter country, their population has probably suffered a decline of more than 90 per cent.
THREATS
Roloway Monkeys continue to be subject to excessive hunting for their bushmeat and skin. Their remaining habitat is dwindling further due to large-scale deforestation, which itself is the result of logging, charcoal production, and conversion to agricultural land (cocoa farming, for example).
PROTECTING BIODIVERSITY
AROUND THE WORLD
AMONG ITS OTHER ACTIVITIES, WWF DEUTSCHLAND
IS PROTECTING BIODIVERSITY WORLDWIDE BY:
– Protecting sufficiently large and interconnected habitats for endangered species together with local communities
– Tackling wildlife crime and reducing the demand for products of poached animals
– Minimising human-wildlife conflict, including innovative methods for agriculture and ecotourism
Stay tuned. We are going to reveal more in the next couple of days! Sign up for our Monkey News here!