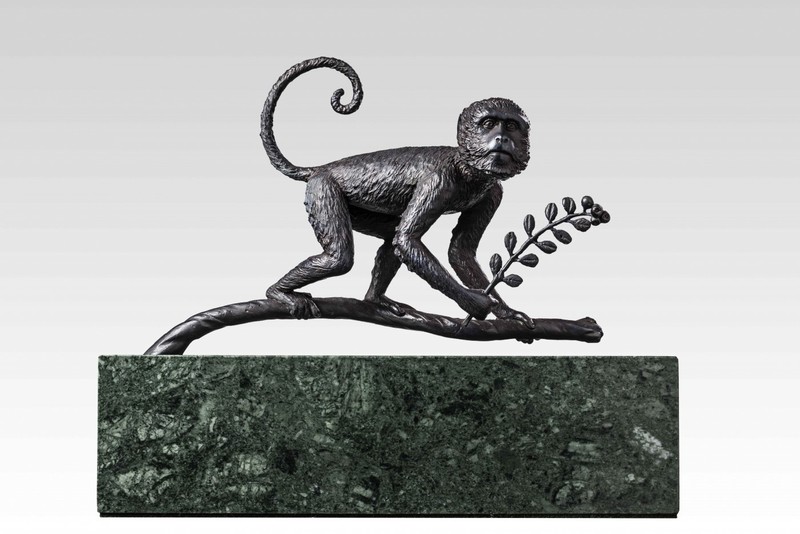 Species Rara in Bronze. In autumn 2013, the makers of Monkey 47, Alexander Stein and Master Distiller, Christoph Keller, together with their team had the idea of honouring outstanding individuals for their exceptional endeavours. The label of Monkey 47 Black Forest dry gin depicts Max, the guardian monkey of Monkey 47's originator, Montgomery Collins, balancing on a branch and holding a cranberry twig – in two dimensions. Now the egret monkey is entering the third dimension in the form of a bronze statue by the artist Axel Haberstroh.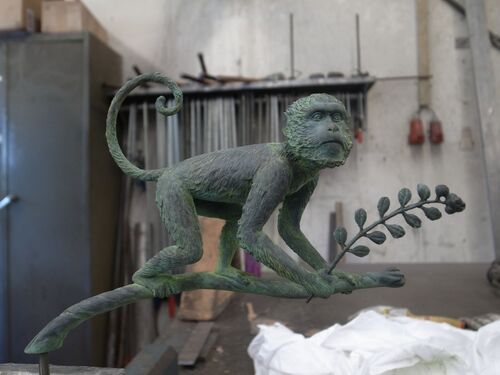 The founders of Monkey 47 felt that bronze was a particularly appealing material. Its durability and reproducibility in the traditional process of art casting made bronze the ideal material for the monkey sculpture. People first began to use this copper-tin alloy for casting tools some 4,000 years ago. Bronze was later replaced by the more robust iron for everyday use, although bronze casting still plays a major role in art.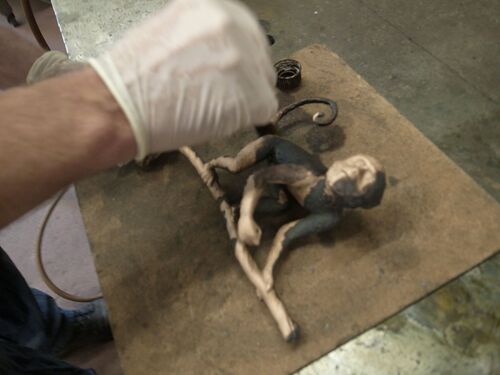 The two months spent working on the original model in the Karlsruhe studio were full of challenges, a major one being the small, fragile cranberry twig held by the monkey – both for Axel Haberstroh and for the art foundry near Pforzheim, where the negative mould was created and the bronze statue was cast. But before Max could clamber onto his branch mounted on a block of green marble, numerous other steps had to be completed. Alexander Stein and Christoph Keller didn't pass up the opportunity to monitor the elaborate manufacturing process.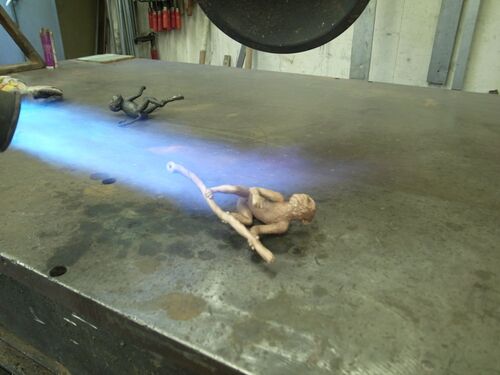 First, the original model is covered in a special silicon to produce the negative mould. This is used to create wax models of the sculpture. Each of the models can then produce a figure. The wax is again covered in a special kind of ceramic and this form is then heated. The wax disappears, leaving a perfect negative mould, into which the hot, liquefied bronze is then poured. Once it has cooled down and the ceramic case has been broken open, the egret monkey is revealed. However, it needs to undergo further treatment as joins and fine air channels are still visible from the casting process. The sculpture is cleaned and finally patinated. Together with his customers, Haberstroh decided to use a traditional dark patina.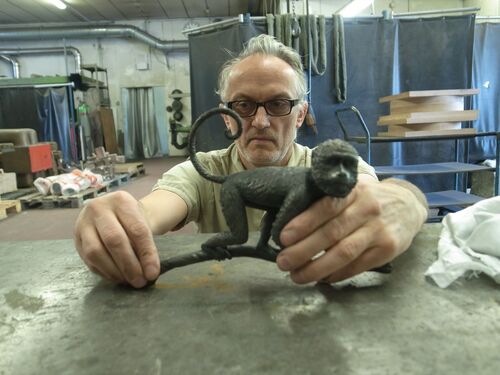 Outstanding individuals are to be presented with the annual 'Max' species rara award in recognition of their exceptional endeavours. Each bronze statue is cast or handmade individually at a foundry in Pforzheim and subsequently patinated by Axel Haberstroh.
We'll raise a glass to this successful combination of art and drinking culture – with the monkey, of course!