Gin Classics #6
The Aviation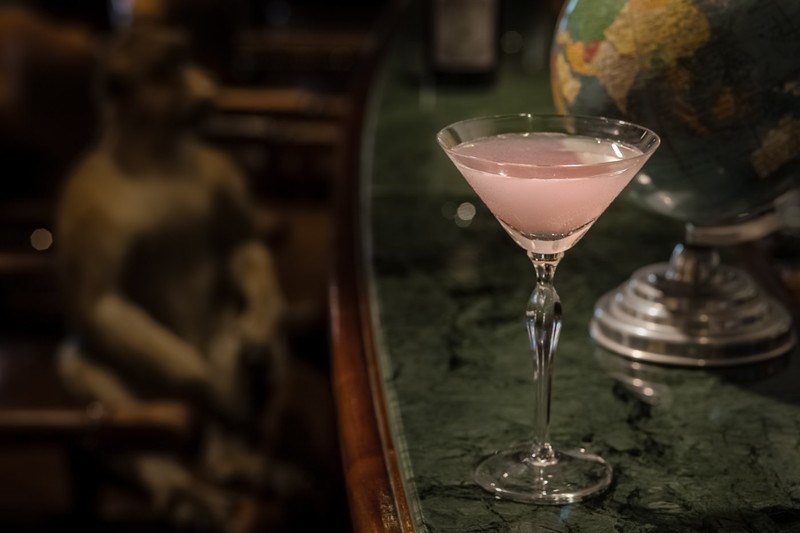 As with many classic cocktails, the Aviation is enshrouded in numerous myths. The original recipe for the Aviation cocktail appeared in Hugo Ensslin's 1961 'Recipes for Mixed Drinks' collection.
Originally from Germany (where else?), Ensslin was then working as a barkeeper at the Wallick Hotel in New York's Times Square, which had previously been Barrett House and the Cadillac Hotel, the bar of which was closed in 1919 following the merger with the Claridge Hotel. Ensslin had published his recipe book himself, and a second, extended edition followed in 1917. However, according to the cocktail historian David Wondrich, the Aviation was already included in the first edition. Ensslin's Aviation cocktail was quite bitter and comprised one third lemon juice and two thirds El Bart gin, (because at that time Ensslin was unfortunately unable to get hold of a gin called Monkey 47 from his old homeland), two dashes of Maraschino liqueur, and two dashes of crème de violette, a violet liqueur that gives the cocktail, among other things, its characteristic colour. The ingredients were to be shaken with crushed ice and – as usual without ice – sieved into a cocktail glass.
This original recipe – without any specific brand of gin – was subsequently revived by Patrick Gavin Duffy in his 1934 book 'Official Mixer's Manual'. Without naming his sources, like Duffy, the London barkeeper Harry Craddock had previously included the recipe in his 'Savoy Cocktail Book', which appeared in 1930, but with one crucial error: he omitted the violet liqueur. Craddock was president of the United Kingdom Bartenders' Guild at the time and the book was reprinted several times, so its popularity led to only this variant comprising two parts gin, one part lemon juice and two dashes of Maraschino liqueur being disseminated over the following decades.
Until the start of the 21st century, the cocktail had almost faded into oblivion and was, if at all, only listed in recipe collections without violet liqueur. Crème de violette was no longer produced by most liqueur manufacturers anyway, and by the second half of the 20th century, it had virtually disappeared from the market. In 2004, David Wondrich came across Ensslin's book, which soon prompted him to publish the original recipe and reissue the book in 2009. As old cocktail recipes have been revived, the Aviation cocktail has since become increasingly popular the world over. In late 2011, the International Bartenders Association (IBA) incorporated it in its list of 'official cocktails' as an 'unforgettable' drink, although it continued to omit the crème de violette. However, many bar menus and various standard works again include the cocktail with all its ingredients from 1916.
Violet also plays a floral and crucial role in the recipe for Monkey 47, and if any barkeeper should happen to leave out crème de violette, our monkey will ensure that the glass contains the required level of floral diversity.