The Clover Club
Enjoyed By Prohibition Gentlemen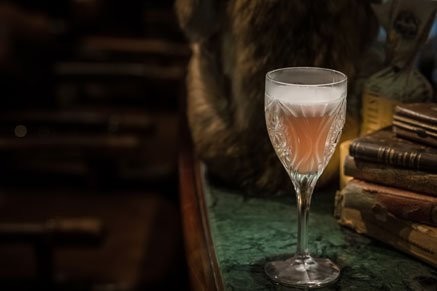 The Clover Club Cocktail is a drink that pre-dates Prohibition, and is named for the Philadelphia men's club of the same name, which met in the Bellevue-Stratford hotel in the early days. It has a long history dating back to at least 1910, and was enjoyed by the captains of industry who were members of the famous club. In its Heyday the drink was described by Jack Townsend as being enjoyed by the pre-prohibition gentleman who would have fit in with those of the club, and was a "Distinguished patron of the oak-paneled lounge." However, by the time that Townsend was writing about the drink it was becoming unpopular, and was eventually all but forgotten. The drink seems to have been forgotten partly due to the use of raw egg in the cocktail, which many people shy away from, and partly due to the complexity of its preparation. Despite the use of what some may consider to be strange ingredients the cocktail is enjoyable, and has been described as tart with the added syrup giving the drink complexity, and the egg white providing body as well as a foamy head.
The drink can be a complex one to make due to the extra steps involved to get the head of foam on top of the drink. Several sources recommend that the drink be "dry shaken" which simply means shaken without ice. At this point Ice should be added to the shaker to chill the drink. Unfortunately there are several variations of this drink toady with the most common replacing the raspberry syrup with Grenadine or red currant syrup. We are strongly advocating the use of raspberry syrup simply because Monkeys do like berries...
4,5 cl Monkey 47
1,5 cl Raspberry Syrup
1,5 cl Lemon Juice
1 Egg White
Dry shake all ingredients to emulsify, add ice, shake and served straight up in a cocktail glass. Cheers!