The French 75
Under Friendly Fire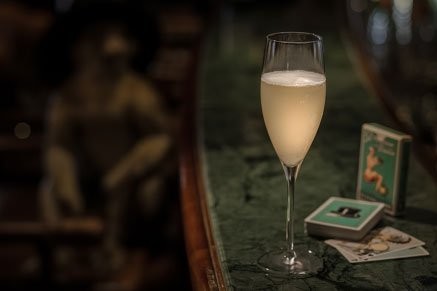 The French 75 was created in 1915 at the New York Bar in Paris—later Harry's New York Bar—by barman Harry MacElhone. Located at 5, Rue Daunou, between the Avenue de l'Opéra and the Rue de la Paix in Paris, France, the bar was acquired by former American star jockey Tod Sloan in 1911, who converted it from a bistro and renamed it the "New York Bar." Sloan had gone partners with a New Yorker named Clancy who owned a bar in Manhattan. That bar was dismantled and shipped to Paris. Sloan then hired Harry MacElhone, a barman from Dundee, Scotland, to run the place. The French 75 is a cocktail made from gin, champagne, lemon juice, and sugar and the combination was said to have such a kick that it felt like being shelled with the powerful French 75mm field gun also commonly known as the French 75, simply the 75 or Soixante-Quinze.
3 cl Monkey 47
2 Dashes Simple Syrup
1,5 cl Lemon Juice
6 cl Champagne
Combine gin, syrup, and lemon juice in a cocktail shaker filled with ice. Shake vigorously and strain into an iced champagne glass. Top up with Champagne. Stir gently.