The Black Forest Gateau
Schwäbisch Confidential: The Schwarzwälder Kirschtorte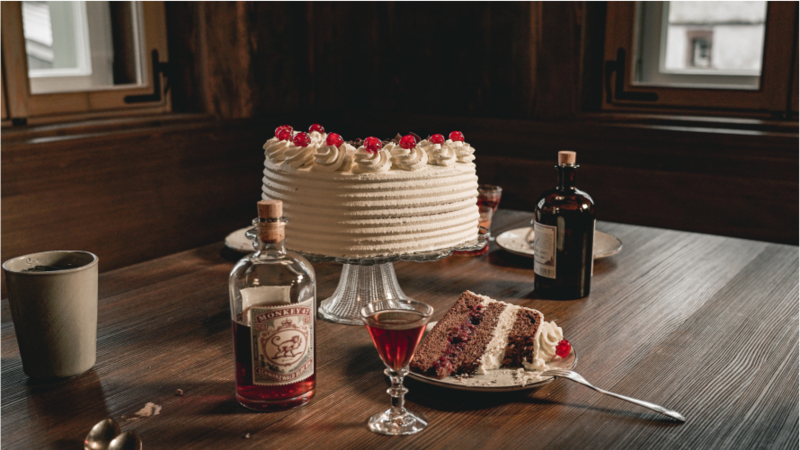 As the name says, this worldly-known cake comes from our beloved Black Forest.
So, we couldn't help but show you how to prepare this rich cherry chocolate piece - with a Monkey 47 touch, of course.
Ingredients
For the Baking:
• 4 eggs
• 4 tbsp of water
• 200g of sugar
• 100g of flour
• 100g of wheat starch
• 1/2 sachet of baking powder
• 1 tbsp of cocoa powder
• To your taste Monkey 47 Dry Gin
For the Cherries:
• 1 cherry jar
• 70ml of Monkey 47 Dry Gin
• 30g of wheat powder
For the Whipped Cream:
• 1000ml cream
• 80ml of Monkey 47 Dry Gin
• 4 sachets of cream-firming agent
• 5 tbsp of sugar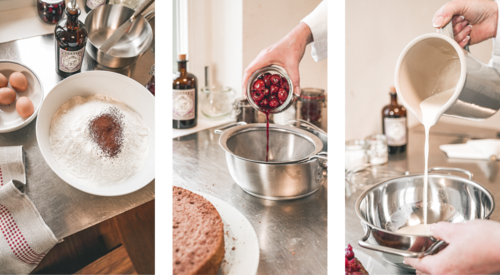 Preparation:
Bake:
First, don't forget to preheat your oven to 170 degrees Celsius.
Then, separate the yolks and whites and beat the latter in a mixing bowl with water.
After stiff peaks form, slowly trickle in the sugar and keep on mixing until well combined.
In a separate bowl, beat the egg yolks until foamy.
Set it aside while you sift the flour, wheat starch, baking powder, and cocoa together.
Then, fold them into the egg yolks to get a smooth mixture.
Now gently fold the beaten egg whites into it and, after fully combined, pour it into a greased and lined cake tin and bake for approximately 30 minutes.
After that, take it off and let it cool completely.
_
Cherries:
Separate the juice and the cherries from the jar, save both.
Mix the juice with 30g of wheat powder and 70 ml of Monkey 47 Dry Gin.
Bring the mixture to a boil, stirring constantly until it thickens.
Add the cherries back to the syrup, mix, and set aside to cool too.
_
Whipped Cream:
In a large mixing bowl, whip the cream until it starts to thicken.
Add 80ml of Monkey 47 and continue whipping.
Gradually add the cream-firming agent sachets and sugar.
Continue to whip until it forms stiff peaks.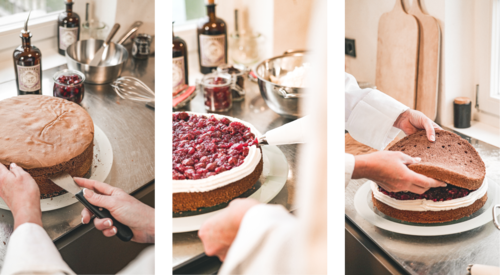 Assembling the Black Forest Gateau:
Cut the cake into two layers.
Brush the cake base with the cherry filling and spread a layer of whipped cream around it before adding the second cake layer.
The trick now is to sprinkle Monkey 47 Dry Gin on top of it for even more flavor and scent.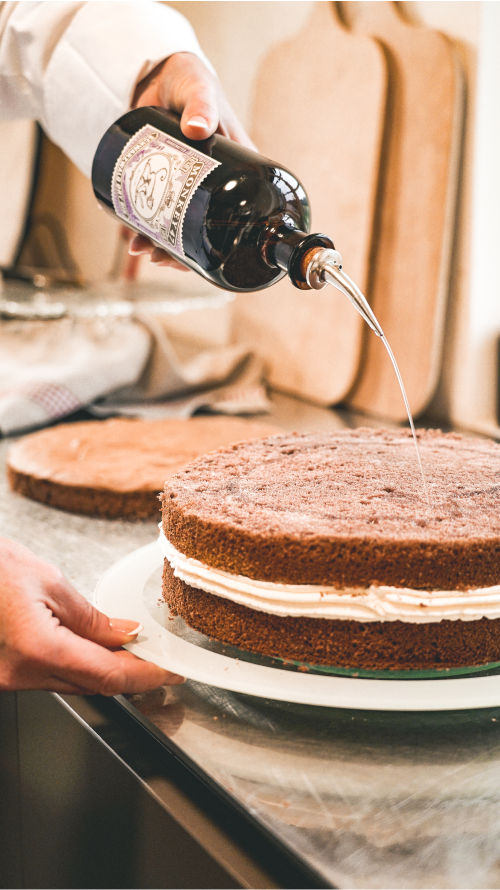 _
Finally, you can cover it all with more whipped cream and decorate the top with cherries and chocolate shavings.
Refrigerate it for a few hours before serving,
and Bon Appetit!
_