Janes & Hooch
A Modern Take On A Vintage Dive Bar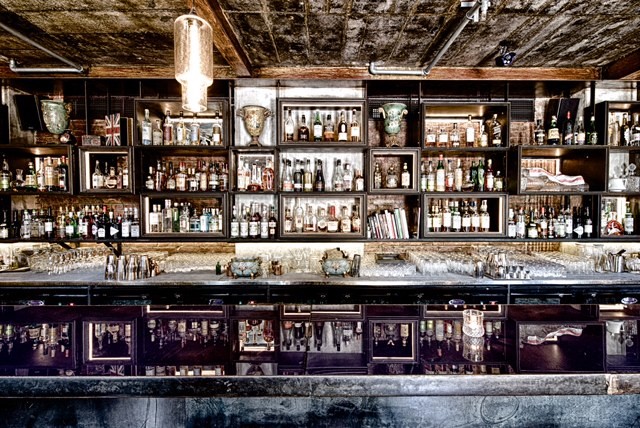 Janes & Hooch is a modern take on a vintage dive bar in the heart of Sanlitun's factory district of Beijing. Coming from two opposite sides of Australia, Warren Pang, Perth (The Opposite House, d. lounge) and Milan Sekulic, Melbourne (The Opposite House, East, Cakeshop Consulting) are in fact Bejing's undisputed f&b kings, having created two of the most successful bars ever to grace Beijing city. Their new venture, Janes & Hooch, is the closest thing Beijing has to a vintage dive bar although the owners consider themselves an Urban Saloon, a former Cultural Revolution-era factory canteen transformed into a sophisticated drinkery with attitude. From the unremarkable entrance to the superb bespoke cocktails and witty service team. Exposed brick and wood-panelled walls, polished cement floors and untouched rusted brass ceilings are bathed in flickering candlelight creating the perfect atmosphere for those who want a proper grown up drink. Expect to be sipping on a Black Forest Martini with Theophilus London or Tom Tom Club in the background.
The name coming from a little inside joke from the owners. A tip of the hat to a lost era and ode to our two loves in life; Janes (dames) and Hooch (bathtub booze). The menu is straight forward, quality driven and cheeky. On offer are modern Asian inspired twists on classic themes using local, seasonal ingredients and applying them to core of what makes a classic a classic. The monthly rotating menu is varied and caters to both the casual drinker to the cocktail geek. Down with the pretention of 100 different types of fancy bitters or vintage barreled pours and focusing on taking on local flavors that are not only distinctive and unique but are relative and have context in Northern Chinese culture.
Warren's general philosophy on drinks is keeping it at 4 ingredients max, using good 'proteins' and letting it shine through so nothing too 'cray cray' but some loving care for our little Monkey. As a big fan of Monkey 47 Warren has turned the whole second floor of his bar into a Monkey Bar in October 2014 with Monkey 47 Gin based cocktails on offer that are straight forward and no fuss, letting our little Monkey from the Black Forest shine through.