The Zoo Bar
A Monkey House Opens In St. Moritz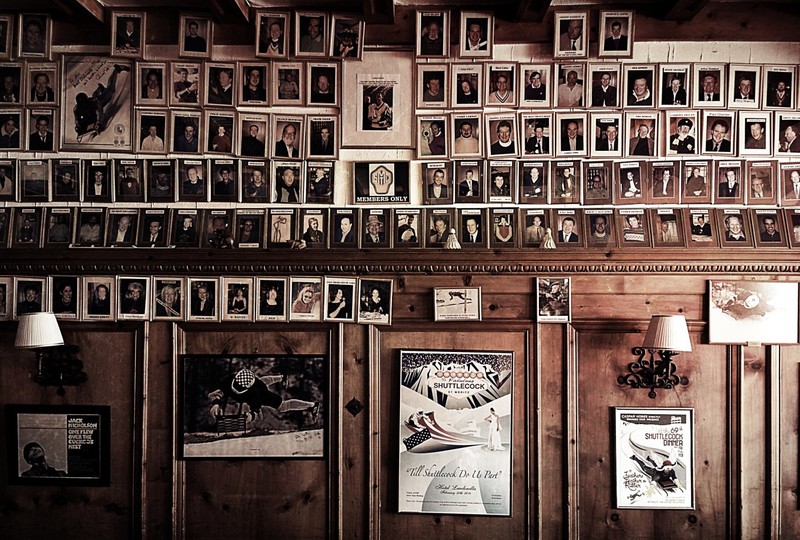 Cresta is only practised in St. Moritz. This exclusive sport involves hurtling down an ice-covered run at speeds of up to 140 km/h on a vehicle similar to a bob skeleton, with the rider's nose only a few centimetres from the ice. The Cresta club's original members were almost exclusively British or American. Whilst the club has long been open to other nationalities – even plucky guests are allowed to try their luck – tradition still plays a key role: only men are allowed to barrel down the run – and no Swiss German, Italian or Rhaeto-Romansch is spoken, only English.
In 1987, avid Cresta rider Urs Degiacomi, son of a family of hoteliers from the Engadine, took over the bar of the venerable Hotel Soldanella in the heart of St. Moritz. Urs, then still a young part-time hotelier, skilfully managed to symbolically bring his passion for the extravagant toboggan sport and his professional interests under one roof – the roof of his hotel in St. Moritz. As time went by, Cresta riders and enthusiasts from every corner of the earth succumbed to the reputation of Zookeeper Degiacomi and his "Elephant", a drinking ritual whereby a guest was prepared, by means of loud stamping accompanied by the shout of "The Elephants are coming over the Alps!", to consume beer of the same name through a drinking straw. After the grey pachyderm had been consumed for several months, the source of supply ran dry for reasons unknown, but a replacement was quickly found – the Giraffe and other animal beers filled the enclosures of the Soldanella, which in 1989 brought Degiacomi to call a spade a spade: the "Zoo Bar" was born.
Since the start of the '90s, the Zoo Bar has been a jewel of constancy and hospitality. Cresta riders of all shades are immortalised on the walls of this special place if they manage to fulfil three conditions: be a member of the "St. Moritz Tobogganing Club"; stay at the Hotel Soldanella; and, most importantly, pay the bill. Then, and only then, has he earned the privilege to a place on the wall.
In 2010, the paths of Degiacomi and head Monkey breeder Alexander Stein crossed, thanks to the invitation of a mutual friend by the name of Paolo. In the early hours of the morning, after numerous Monkey & tonics, our Monkey from the Black Forest was accepted into the Engadine Zoo, making Degiacomi the owner of the first Monkey House in Graubünden. Thank you Zookeeper Urs!